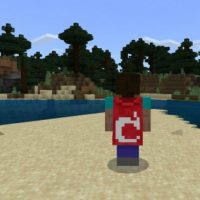 Capes Mod for Minecraft PE
Version MCPE: 1.16.0 - 1.20.15
Download
Download Capes Mod for Minecraft PE: get the opportunity to diversify your wardrobe of Steve with new items of clothing.
What is interesting in Capes Mod?
Another beautiful and colorful element of the wardrobe, which can perfectly diversify is the appearance of Steve. Capes Mod adds a large selection of new items to the game, some of which not only create a unique image of the player.
The hero can become invisible if he puts on new clothes. This will help not only to pass unnoticed by any enemy in Minecraft PE but also to attack completely unexpectedly and win in any fight.
Users can get not only a beautiful accessory but also new unique features right now.
Large selection
This update for Capes Mod will give Minecraft PE players access to 50 new items of clothing at once, which can greatly decorate the appearance of the hero. You can make it memorable and unusual right now.
The mechanics of the choice is very simple: in the settings, you need to click on the gear and then select the option that is more suitable at the moment by the names.
All the drawings on the raincoats are very beautiful and interesting, and when the player moves, he also develops, as if from the wind. Such an accessory can perfectly diversify the appearance of the hero, and make him interesting and unusual.
Invisible
This update for Capes Mod adds only one new item to the Minecraft PE world. But its unique properties will appeal to absolutely all players. The fact is that as soon as the hero puts on new clothes, he will become completely invisible.
Absolutely no mobs, neither friendly nor aggressive, will notice the player. This can be used to calmly bypass enemies or even attack them unexpectedly.
It is worth noting that the appearance of the accessory itself resembles a similar artifact from the Harry Potter films. Embark on a journey right now and don't be afraid of meeting enemies.
How do I install this Capes Mod?

The file is in .mcaddon extension, so just tap on the file to automatically install the modification.

Can this mod be run in a multiplayer game?

Yes, for this it is enough just to be the owner of the card and install this modification on it.

What if the mod doesn't work?

Try to activate the experimental game mode.
download anchor
Download Capes Mod for Minecraft PE