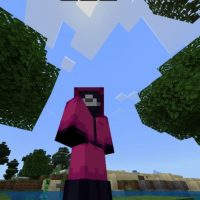 Squid Game Texture Pack for Minecraft PE
Version MCPE: 1.17.0 - 1.20.32
Download
Download Squid Game Texture Pack for Minecraft PE: take a part in the most popular survival game as a player or a guard.
Squid Game MCPE Texture Pack
Not so long ago, the Squid Game series appeared on Netflix. It got popularity very quickly. At the moment, the series officially has more than a hundred million views and a whole army of fans. Of course, Minecraft PE players are no exception.
Players can feel the atmosphere of the hit TV series in the cubic world. These textures will help users with this, allowing them to get clothes and items from the cult survival game.
Guard clothes
After downloading these textures, Minecraft PE players can find clothes for the guards. The standard armor set was replaced with a new texture. There are new clothes for the familiar characters.
A circle badge will replace an iron helmet, and a square item is instead of a diamond one. A triangle one is made from a golden helmet.
Then you can select the remaining parts of the uniform corresponding to them. They are followed by netherite armor, as is known, the most powerful. There is also a supervisor in the cruel game.
All these textures will recreate the characters of the Squid Game for players, and they will be able to try on different roles.
Squid Game 3D Costumes
In this pack, the Squid Game textures go to a new level. 3D costumes appear in Minecraft PE. All the armor is completely new, not converted from a standard set.
The quality of model development is striking. Even at a long distance, you can see all the details. There is also a minus: these textures do not work correctly on all devices.
And there are also new items with which you can get closer to the original plot of the series.
Among them:
A gear with which players can create a dialog box with the characters;
a piece of paper helps to create your own rules in the game.
What if the texture pack doesn't work?

Try to activate the experimental game mode.

Can I use it on servers?

Yes, you are free to use it on public servers.

How do I install this texture pack?

The file is in .mcpack extension, so just tap on the file to automatically install the modification.
download anchor
Download Squid Game Texture Pack for Minecraft PE