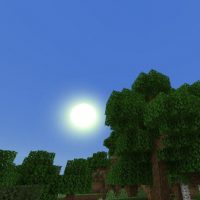 Simple Shaders for Minecraft PE
Version MCPE: 1.4.0 - 1.20.32
Download
Download Simple Shaders for Minecraft PE: change the game territory by adding smoother lines, bright colors, shadows, animation, and new lighting!
Simple Shaders for MCPE
Minecraft PE players are trying to improve the world in different ways. Simple shaders can help with this. Using them, you can change the game content by adding new shades, cool animations, and better lighting.
One of the important tasks of the shader is to add a lot of shadows. All this makes the world more realistic.
Features
The name fully reflects the characteristics of the resource pack. These shaders for Minecraft PE are simple ones indeed. It will be a perfect option for those who cannot use other shaders and works even with weak devices. However, they have good graphics enhancement features.
By the way, Simple shaders work on both iOS and Android.
Advantages
The main advantage of Simple shaders is the excellent graphics of Minecraft PE. And the lighting inside the game will completely change! In the classic versions of the game, there was always not enough work on lighting.
The developer of this resource pack added bright colors and better lighting. All this looks incredibly harmonious in the familiar world! You can enjoy picturesque sunrises and sunsets, watch the starry sky and walk through the updated biomes.
Everything in the game has changed: sky, water, structures, various buildings, and much more.
Thanks to Simple shaders, the Minecraft PE game world will look like a real one. The water will naturally flow, the clouds will no longer resemble blocks. The sun will have smoother lines, like many other objects. There are also natural shadows and highlights in the game world.
This resource pack is easy to download and use. It is important to activate the experimental game mode to make the shaders work.
What if the shader doesn't work?

Try to activate the experimental game mode.

Can I use it on servers?

Yes, you are free to use it on public servers.

How do I install this shader?

The file is in .mcpack extension, so just tap on the file to automatically install the modification.
download anchor
Download Simple Shader for Minecraft PE