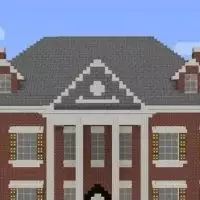 Hotel maps for Minecraft PE
Version MCPE: 0.14.0 - 1.20.41
Download
Download Hotel map for Minecraft PE: you can visit resorts of different cities and natural locations.
Hotel map for MCPE
Tourism has always been a popular activity for many people for a long time. It is always necessary to book a hotel when visiting a new city or country. Probably fans of Minecraft PE are big fans to travel if hotels are so popular.
You can often find locations of various resorts with different categories of hotels on the Internet. There are five-star hotels and small hostels, and other buildings waiting for you. In general, exploring them is very interesting.
However, as always, MCPE is much more fun with friends.
Traditional hotel
This location is the simplest hotel, but it is an actual mansion unlike many people. Instead of cramped rooms, there are giant corridors and massive sleeping complexes.
So there's room in this hospitable mansion for a great company of friends. According to the author of the map, players of Minecraft Pocket Edition will also find secret hiding places and other places.
That way, the users will have exactly what they want to. You can easily compete with friends who will find more hiding places.
Horror hotel
As you can tell by the name, this location is about a hotel that you didn't enjoy so much as you had to escape. It is inhabited by terrible monsters who are constantly eager to taste human meat.
By the way, in this horrible hotel with monsters and ghosts, it's best for Minecraft Bedrock Edition to play with friends. The thing is, you'll be less scared—all the more reason to fight a bunch of freaks.
It is worth mentioning that the players will meet many traps on the map of this hotel, and, most interesting, riddles. It will not be easy to solve them. That's how location trains your brain.
By the way, I can find the Easter ones, too. You are not able to rest here. You'll get unforgettable emotions.
Is in the Horror Hotel traps?

Can I play with friend on these maps?

Yes, you can and it recommended to.

Are there structures?

Yes, this version contains various constructions.
Download Hotel maps for Minecraft PE