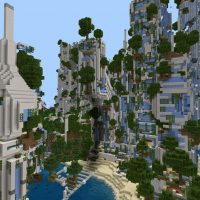 Destroyed City Map for Minecraft PE
Version MCPE: 1.4.0 - 1.20.32
Download
Download Destroyed City Map for Minecraft PE: overgrown houses, destroyed structures, blown up the tower!
Destroyed City Map for MCPE
Many are familiar with films of the post-apocalyptic genre, where the heroes have to survive in a completely new world. And the majority at least once wanted to be in such an atmosphere, to walk along the abandoned streets. Minecraft PE players have this option. They can download this map and enjoy this world to the fullest.
Emergence
A player appears about 2-3 skyscrapers in the water in Minecraft PE. He needs to walk along the edge and reach the land carefully. A picture of an absolutely deserted area will appear in front of him.
There will be a lot of dilapidated skyscrapers that can collapse at any moment. As strange as this fact may seem, in addition to quartz, you can find a lot of ice in skyscrapers.
Residential complexes
Turning to the right from the starting location, you can get to the abandoned residential complexes in Minecraft PE. Families used to live in these houses, but now there is almost nothing left of their trace. You can only find some broken objects and chests in some places.
Greenhouses
Naturally, to feed so many people, food was needed. Therefore, going beyond residential complexes, the player can see greenhouses in Minecraft PE. They, like everything in this city, are destroyed. However, in these greenhouses, there is still some harvest left.
Protective structures
Once upon a time, this city in Minecraft PE had good defensive structures:
Dam
It is a major obstacle to both invasions and floods. But now, it is not at all usable. The dam

consists of iron blocks

, which can be useful for surviving in a given city.
Tower
Another defensive structure in Minecraft PE, located at the edge of the city. It is not known what was in this tower, as there was practically nothing left of it.
How to install a map for Minecraft PE?

In order to install the map, you need to move it to the address games/com.mojang/minecraftWorlds.

How are maps installed in a ZIP archive in Minecraft PE?

First of all, you need to unzip the file, then move it to games/com.mojang/minecraftWorlds/.

How are maps with the .mcworld extension installed in Minecraft PE?

After you download the file, run it. The map is automatically imported into the game.
download anchor
Download Destroyed City Map for Minecraft PE