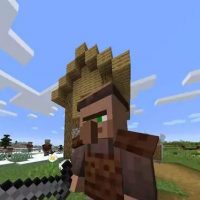 Shapeshifter mod for Minecraft PE
Version MCPE: 1.14.0 - 1.20.31
Download
Download Shapeshifter mod for Minecraft PE: turn your game into an absolute nightmare, where terrible and dangerous mobs will roam the world.
Shapeshifter mod for MCPE
Werewolves and vampires, and zombies are among the most recognizable fantastic creatures in modern media.
It is very often possible to find films or video games where these evil creatures meet to some extent. Half-man wolves even appeared in MCPE, but only with modification help.
Vanilla Twilight is the primary and most exciting addon. It adds many different creatures, including werewolves.
Allies
You have to understand that the world has already changed, which means you're going to need new allies and buddies. Surviving alone in a world of dangers Minecraft Pocket Edition is tough.
That's why you should go to the nearest village. It turns out new residents are waiting for you. They've become militant.
In doing so, everyone will have either a bow or a sword. There are even magicians to deal with werewolves.
However, in Minecraft PE, not all villagers will carry weapons. Only 25 percent of the entire village will be armed. The danger, like werewolves, will surround the town almost every day.
Aggressive mobs
Besides the incredibly fast and dangerous werewolves, Minecraft PE's modification for goblins also introduces them. These militant beings attacks the inhabitants. Mimics, hagbats, and nymphs will also be found in the world.
By the way, when you see a giant, you don't want to piss him off because he has an unmatched power that any existing mob or player can hardly handle. Looking back at werewolves, they look like ordinary hillbillies on their own. However, at night, they are still worth fleeing.
Vanilla twilight also introduces minotaurs, kobolds, basilisks, and even necromancers. That is, the addon is very large. As you can imagine, there are werewolves and other mobs.
What mobs are in the modification in Minecraft PE?

You will encounter such mobs like mimics, hagbats, and nymphs and even several others!

What kind of creations are in the addon in MCPE?

There are allies and aggresive mobs.

Is there a werewolf in the mod?
download anchor
Download Shapeshifter mod for Minecraft PE