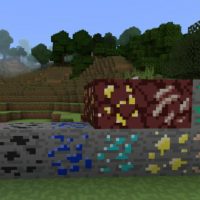 Smooth Texture Pack for Minecraft PE
Version MCPE: 1.16.0 - 1.20.31
Download
Download Smooth Texture Pack for Minecraft PE: softer and unobtrusive colors and updated details of the blocks are waiting for their players.
What is interesting in Smooth Texture Pack?
The world of Minecraft PE is constantly changing, new details, colors, and blocks appear.  Sometimes there is a lack of simplicity and clarity. It is for this case that the Smooth Texture Pack was created, thanks to which the cubic world will receive some changes.
The developers have tried to make the textures softer and the colors brighter. The heroes may notice that the picture has become more organic. The main task of the author is to make sure that nothing distracts attention during the game.
Players can create their own idea of the updated space right now.
Woods
Sometimes it may seem that some elements look intrusive and even annoying. And the most important thing in the gameplay is to make the world around the player comfortable and convenient.
The developers of this update for Smooth Texture Pack have changed the appearance of all blocks and objects that are made of wood. Smoother and even simplified lines make the creation of new buildings more interesting and relaxing.
Minecraft PE players can fully enjoy all the modern features of the cubic world.
Pixels
The developers have added more animation to the Smooth Texture Pack, which organically fits into the surrounding world. The colors will become brighter, and the appearance of the blocks will be soft and calm.
This is a great opportunity to start something new in the gameplay, create unique buildings, or go exploring in the boundless space. Minecraft PE players are given a great opportunity to visit the updated territories and appreciate them.
Each hero can choose any course of action for himself, and a pleasant atmosphere around will help in achieving goals.
What if the Smooth Texture Pack does not work?

Try to activate the experimental game mode.

Can I use it on servers?

Yes, you are free to use it on public servers.

How do I install this texture pack?

The file is in .mcpack extension, so just tap on the file to automatically install the modification.
download anchor
Download Smooth Texture Pack Minecraft PE