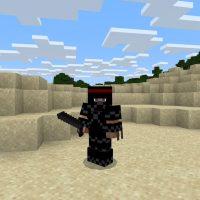 Ninja Mod for Minecraft PE
Version MCPE: 1.0.0 - 1.20.31
Download
Download Ninja Mod for Minecraft PE, and become invisible to the eyes of your friends!
Ninja Mod for MCPE
In Minecraft PE, the player constantly has to fight with various creatures. Or, users often arrange battles with their friends, building arenas for this in advance. With the help of the Ninja mod, these battles can be made much more interesting and epic.
Players will be able to transform into the heroes of many ninja movies and become very secretive. They will also receive a large number of various interesting weapons to fight.
Ninja
After installing the Ninja mod for Minecraft PE, new armor and weapons will appear in the game. First of all, there are two new items worth paying attention to dark fabric and dark steel. To craft new armor, the player only needs dark fabric. This armor has its own unique abilities. For example, the player gets the effect of resistance to damage, which will be very useful in survival.
With a complete set, the user receives 10 units of protection. In Minecraft PE, this value sits between leather and gold armor. But, given that this equipment is used specifically for stealth, protection is not very important here. The player also has four new weapons: sai, dagger, iron, and dark steel katana. The last weapon takes nine hearts at once when attacking. This is higher than that of a diamond and even netherite sword.
Weapons and Mobs
In the next Ninja mod for Minecraft PE, new mobs appear, unlike the previous one. There are three of them: bad ninja, good ninjas, and villager ninja. To trade with the last mob, you need special coins that drop out when you die with a bad ninja. Also, this evil mob attacks the good and villager ninjas.
When trading, the user can get five different weapons in Minecraft PE: shuriken, katana, sai, gold, and diamond katana. Katanas do 16 to 20 damage, depending on their quality. It is worth noting that katanas made from precious materials and sai give the player an acceleration effect.
How do I install this mod?

The file is in .mcaddon extension, so just tap on the file to automatically install the modification.

Can this mod be run in a multiplayer game?

Yes, for this it is enough just to be the owner of the card and install this modification on it.

What if the mod doesn't work?

Try to activate the experimental game mode.
download anchor
Download Ninja Mod for Minecraft PE