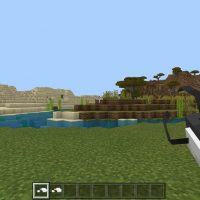 3D Weapons Mod for Minecraft PE
Version MCPE: 1.4.0 - 1.20.31
Download
Download 3D Weapons Mod for Minecraft PE, and take part in battles using voluminous and beautiful weapons!
3D Weapons Mod for MCPE
There are 3 items in Minecraft PE for fighting hostile mobs: sword, bow, and trident. Although they help in many situations, they are far from ideal.
Weapon mods are exactly what you need to use in such cases. And with the help of modifications to 3D weapons, the player will be able to get three-dimensional weapons to fight.
3D Gun
Weapon in this 3D Weapon mod for Minecraft PE impresses. There are pistols, machine guns, and even sniper rifles. There are also cartridges in case the user uses the entire clip.
Laser gun
This add-on adds 3D laser weapons to Minecraft PE. With this weapon, you can easily hit any hostile creatures during your survival. And you don't have to worry about patrons because they are endless here. In the player's hand, the laser weapon looks very nice since it has a 3D model. But this can only be seen when viewed from a third person.
In the case of the first, this three-dimensionality is lost. In total, there are four types of laser in this modification for 3D weapons for Minecraft PE: red, blue, yellow, and green. And most importantly, they can all be crafted in survival mode. Alternatively, you can view a list of them using the /give @s item:lasergun command and give yourself the necessary gun.
Portal gun
With this modification, a portal 3D gun will appear in Minecraft PE. It allows you to create portals between which the user can navigate. This cannon can also be built in Survival Mode. You only need to craft a blue cannon because it automatically changes to an orange one when you use it.
And if you don't want to waste time on long crafting, then you can use the command /give @s item:portal_gun and give yourself the gun you need. It is also worth noting that the 3D model is drawn even in the first-person view in this modification, unlike the previous one. Thanks to this, the weapon in hand looks much more beautiful.
How do I install this mod?

The file is in .mcaddon extension, so just tap on the file to automatically install the modification.

Can this mod be run in a multiplayer game?

Yes, for this it is enough just to be the owner of the card and install this modification on it.

What if the mod doesn't work?

Try to activate the experimental game mode.
download anchor
Download 3D Weapons Mod for Minecraft PE