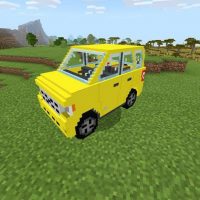 Ford Escape Mod for Minecraft PE
Version MCPE: 1.8.0 - 1.20.32
Download
Download Ford Escape Mod for Minecraft PE, and drive small cars with your friends across the cube world!
Ford Escape Mod for MCPE
As you know, in Minecraft PE, no survival is complete without travel. During such movements, the player finds various biomes, valuable resources, buildings. However, the main disadvantage is that the user has to spend a lot of time. In this case, it is worth using vehicles. An excellent solution would be the Ford Escape, which will take the player anywhere he wants.
How do I get a car?
After installing the Ford Escape mod for Minecraft PE, you need to go to creative mode. With the help of the Creative inventory, the player will be able to get special items necessary for spawning cars. There are four lights in total: yellow, blue, gray, and white.
Police Car
In addition to the usual Ford Escape, there is also a police car in this mod. It looks a lot like a blue car. But, unlike her, it has police flashers, as well as a unique coloring in Minecraft PE. Using this vehicle, the user can play the role of a police officer. It will be relevant and exciting in a multiplayer game.
Storage of things
The mod's author provided the ability to store things in Ford Escape cars in Minecraft P. After spawning the vehicle, you can see that there is one chest in the trunk. To access it, you must first sit down.
After that, move the cursor over the car, after which the Open button will appear. By clicking on it, the player can open the chest in the car and put his things in it.
Control
Driving a Ford Escape in this mode is pretty straightforward. First, you need to hold down the cursor on the car to get into it. After that, the control resembles that of a horse. To rotate, you only need to turn the screen.
How do I install this mod?

The file is in .mcaddon extension, so just tap on the file to automatically install the modification.

Can this mod be run in a multiplayer game?

Yes, for this it is enough just to be the owner of the card and install this modification on it.

What if the mod doesn't work?

Try to activate the experimental game mode.
download anchor
Download Ford Escape Mod for Minecraft PE