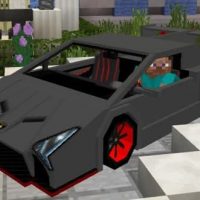 Lamborghini Mod for Minecraft PE
Version MCPE: 1.0.0 - 1.19.83
Download
Download Lamborghini Mod for Minecraft PE, and arrange fantastic racing competitions with your friends!
Lamborghini Mod for MCPE
Modifications in Minecraft PE can provide the player with unlimited possibilities. It is with their help that you can add almost anything to the game. Mods to cars can add various vehicles to the game, in this case, a Lamborghini.
Lamborghini
This add-on adds a real Lamborghini to Minecraft PE. You can control it in the same way as a horse, which is quite convenient. It is worth noting that in this mod, the texture of the witch is replaced with this car. Therefore, in the witch's huts, you can see a sports car instead of her mistress.
Aventador
Lamborghini Aventador is a very fast car in Minecraft PE. It accelerates from zero to 60 mph in 2.9 seconds. This car is perfect for racing with friends.
Veneno
This mod adds another brand of this vehicle to Minecraft PE – Lamborghini Veneno. You can install this car using the egg from the Creative inventory. This car looks pretty nice. Also worth noting is the very realistic sound that plays when the user gets into the car.
Bmero
Another mod that adds Lamborghini Bmero to Minecraft PE. This vehicle has 27 storage slots. To access this repository, you need to sit down and hover over the Lamborghini.
After that, you need to click on the button that appears. There is also a realistic sound here, as in the previous addon.
Centenario
The last mod that adds Lamborghini PE to Minecraft. This time it's the Centenario brand. This modification has several differences from others. First of all, there is a realistic car interior, as seen in the photo below.
Also, the player can choose one of 4 colors: blue, orange, red, and black. It is with this addon that you can feel like a real racer in Minecraft PE.
How do I install this mod?

The file is in .mcaddon extension, so just tap on the file to automatically install the modification.

Can this mod be run in a multiplayer game?

Yes, for this it is enough just to be the owner of the card and install this modification on it.

What if the mod doesn't work?

Try to activate the experimental game mode.
Download Lamborghini Mod for Minecraft PE