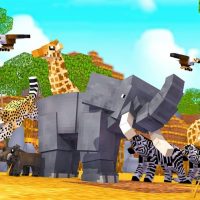 Cute Mobs Mod for Minecraft PE
Version MCPE: 1.8.0 - 1.20.31
Download
Download the Cute Mobs mod for Minecraft PE: countless will join the game
Cute Mobs MCPE Mod Highlights
The vanilla version of Minecraft PE has numerous unique mobs, and some of them are charming. However, you can't tame these adorable creatures even if you try too hard.
Cats, dogs, bees, pandas, and other cute mobs inhabit the world of MCPE, but it's not enough for the majority of players.
Users would like to have more pets to tame and charming living beings to encounter. Luckily, there is an endless amount of modification and maps on the Web you can download and use freely.
These Minecraft PE addons introduce a whole zoom of bizarre animals from tundra forests and to the scorching deserts.
Fauna
There is one mod in particular that adds more than one hundred species to the vast plains of MCPE. yCreatures has animals from all the continents around the world.
For instance, users shall encounter eagles flying high above you, ant-eaters wolfing down termites, and ostriches laying eggs in savannas.
Minecraft PE world will be filled with buffalos threatening everyone who gets too close to the baby, antelopes running around, and Nile crocodiles devouring small livestock.
yCreatures also adds brand-new turtles to the warm beaches of the Overworld. There are even termites protecting their nests so severely you'll die in no time.
MCPE received the most significant land mammal of the world — elephants. These inhabit warm biomes, savannas in particular. All of them are adorable.
Every added animal and its baby will make you become a vegetarian because these mobs are cute and overwhelmingly positive.
Other livestock
Giraffes, cheetahs, coyotes, and hippos will be in Minecraft PE as well. Users will come across them in various biomes alongside lions, tigers, rhinos, zebras, etc.
There is also a mob from Biome Vote 2019: a vulture. It will follow you as phantoms do.
Where do I find eagles in Cute Mobs MCPE Mod?

Can I tame an ant-eater?

Yes, you can actually tame an ant-eater.

Will lions attack me?

Yes, they might attack you.
download anchor
Cute Mobs Mod for Minecraft PE Download