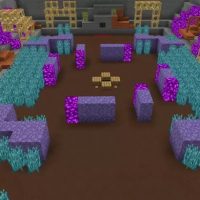 Brawl Stars map for Minecraft PE
Version MCPE: 1.2.0 - 1.20.32
Download
Download Brawl Stars map for Minecraft PE: Have a real gladiatorial battle on an incredible location explicitly created for this purpose.
Brawl Stars map for MCPE
The main thing about Brawl Stars' location in Minecraft PE is that it is supported on almost all versions. The only nuance is the insignificant setting of the territory, which does not influence what happens during the battle.
The developers claim that a lot of effort has been invested in this map so that every player should like it.
In addition, the map is also well developed in texture and atmosphere.
Original
This map for Minecraft Pocket Edition was taken from the famous mobile game Brawl Stars. The word «brawl» means a town where there are always skirmishes.
And that's why it's perfect for the convention arena. It's where the players can have an epic fight with each other. You can invite all your friends and have real tournament battles which will be remembered for a long time!
Features
As the Minecraft Bedrock Edition authors point out, you can build freely on it. This is what the creators hope for: they have not gone far enough in filling the map.
According to the developers, the users adjust the area before the battle. You should choose blocks and engage in the free transformation of the terrain.
Of course, there are no advantages, but it is possible to place a pair of snipers.
Design
The map's appearance on Brawl Stars for MCPE is also not lagging behind other characteristics. Despite its small size, the location has a pleasant atmosphere.
It was designed for brutal battles, broken bones, and broken teeth. The grey tones of the walls surrounding the battlefield are deliberately inflammatory.
By the way, you can go outside the area, but there's nothing to do. The thing is, this area is built in a super-flat world, which means it's unlikely to survive.
What the word "brawl" mean?

The word «brawl» means a town where there are always skirmishes.

Can I play with friends?

Are there structures?

Yes, this version contains various constructions.
download anchor
Download Brawl Stars map for Minecraft PE