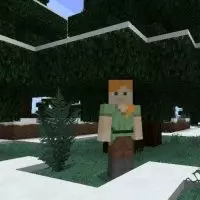 Parallax Texture Pack for Minecraft PE
Version MCPE: 1.2.0 - 1.20.32
Download
Download the Parallax Texture Pack for Minecraft PE: create an amazingly realistic world in which new adventures will await!
What is new in Parallax Texture Pack?
The developers have tried to maximize the appearance of some elements of the game. With the help of Parallax Texture Pack, the appearance of the grass has changed, almost every blade of grass has been drawn.
Beautiful highlights appear on the water and in general, the appearance of Minecraft PE has become more realistic.
Blocks
In the cubic world, the hero is surrounded by many different elements. These are trees, grass, reservoirs, as well as mountains. On the way, there are villages and mines, various animals and scary creatures.
It is great that the developers are trying to improve the external component of everything that surrounds the hero with each update.
Parallax Texture Pack allows you to make changes to the familiar appearance of Minecraft PE. This can greatly diversify the gameplay.
As soon as a user enters the game, changes become noticeable. The blocks are better drawn, they have a lot more small elements.
Traveling and coping with difficulties in such a beautiful world becomes incredibly interesting. Any challenge turns into an exciting adventure in which the player will certainly have a lot of victories!
Textures
In Parallax Texture Pack, a large number of small details are drawn, this creates a very realistic atmosphere of Minecraft PE.
It is worth taking a closer look at an ordinary tree, not at first glance, and it becomes noticeable that each leaf is drawn with great accuracy. Even the grass and all the plants have changed, it looks impressive.
By the way, the hero should definitely visit the mines. There he can find stones that look new, more realistic.
In the Lower World, users will also be able to see the changes, the lava has received a new texture and now looks like a real one.
Can this texture pack be run in a multiplayer game?

Yes, for this it is enough just to be the owner of the card and install this modification on it.

Can I use it on servers?

Yes, you are free to use it on public servers.

Have weapons chaged their textures?

Yes, they have been altered.
download anchor
Download Parallax Texture Pack for Minecraft PE