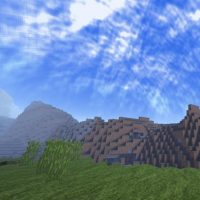 Energy Shaders for Minecraft PE
Version MCPE: 1.2.0 - 1.20.31
Download
Download Energy Shaders for Minecraft PE: change the world by adding beautiful colors and realistic shadows and more light!
Energy Shader for MCPE
Many developers create different resource packs for Minecraft PE to improve the image. Players can enjoy the bright colors of nature inside their virtual reality. Energy shaders can bring all these changes to the game world.
Energy Shader
This resource pack will add smoothness and beauty to Minecraft PE. Energy changes everything. It is a kind of shaders that make changes in the appearance of the game but leave the classic base.
There will be more colors in the game world and they will be much brighter. Sunsets will be amazing! Lighting is also better. Realistic shadows have smoothness and neatness add beauty to your world.
The sky, the rays of the sun, lighting, colors will surprise the players.
Everybody should try Energy shaders and see everything with their own eyes.
New Energy Shader
First of all, the Energy pack, like all other additions for Minecraft PE, improve the gameplay. The developer decided to add bright lights, shadows, fog, and more. These things help players enjoy the time spent playing their favorite game.
Do not forget to use the experimental game mode for these packs.
This addition is one of the first shaders that suits Android, Windows 10, and iOS. The most significant introductions will be the updated textures of water and lighting. The combination of these two functions will produce an impressive effect.
The world of Minecraft PE becomes more realistic with the Energy resource pack. The highlight will be transparent glasses, which received expanded textures of 32×32.
The main changes in the game space will be realistic lighting and beautiful sunlight. Players can also notice extra fog and a lot of smooth shadows of objects.
What if the shader doesn't work?

Try to activate the experimental game mode.

Can I use it on servers?

Yes, you are free to use it on public servers.

How do I install this shader?

The file is in .mcpack extension, so just tap on the file to automatically install the modification.
download anchor
Download Energy shader for Minecraft PE