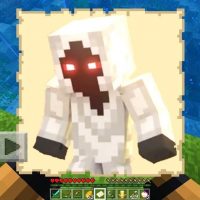 Entity 303 Mod for Minecraft PE
Version MCPE: 0.14.0 - 1.16.201
Download
Download the Entity 303 mod for Minecraft PE: the most infamous character comes back to seek revenge.
Entity 303 MCPE Mod Highlights
The Minecraft community knows lots of characters, and not all of them are friendly and helpful. It seems many decided to choose the dark side.
These antiheroes have brought numerous sorrows and problems to the peaceful users of Minecraft Bedrock Edition.
Entity 303 is one of these humanoid monsters lurking in the dungeons and disrupting players' lives. Moreover, this antagonistic mob will even attempt killing you and other intelligent users.
Generally, Minecraft will become a more dangerous and terrifying place to inhabit henceforth. However, you can fight off Entity 303 using an impressive arsenal added with addons.
Features
First of all, Entity 303 is often compared to another infamous character — Herobrine. Some part of the community is sure they are allies.
On the contrary, others claim they are the sworn enemies and shall never live in peace with each other in Minecraft PE.
Besides, both of them have never been in the original game, and thence no one can tell the truth for sure. Yet, several modifications attempt to put an end to this question.
For instance, Entity 303 is a powerful enemy, and one of the game's main bosses users have to deal with. Gladly, it does not appear in the Overworld unless summoned by players.
Therefore you have time to get your most serviceable gears, craft the best tools, and then evoke him under certain circumstances.
The Fight
On the other hand, this addon will make you realize the power Entity 303 possesses in Minecraft PE. First off, it shoots fireballs from a distance.
Secondly, this boss has lots of HP in case you reflect his pistols.
Furthermore, Entity 303 uses shulker projectiles as well. Subsequently, you might have to fight with it in the air. Thence one ought to obtain Ender pearls.
Sometimes it comes down and combats players in a melee fight. However, it might also convoke Wither Skeletons and lightning bolts to slay the bold players.
How do I get new weapons in Entity 303 MCPE Mod?

Once the boss is slain, he'll drop new swords.

How do I find Entity 303?

Are there brand-new mobs?

There is only Entity 303.
download anchor
Download Entity 303 Mod for Minecraft PE