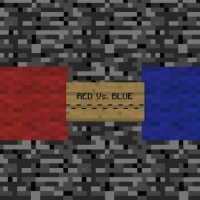 Red vs Blue Map for Minecraft PE
Version MCPE: 0.14.0 - 1.20.15
Download
Download the Red vs. Blue map for Minecraft PE: pick a side and join the epic battle.
Red vs Blue MCPE Map Highlights
Minecraft Bedrock Edition is usually a PVP game where users have to fight against each other in order to survive and outcome all present issues.
Some of these brutal combats happen in Survival worlds where players build houses, purge dungeons, and even overthrow bosses.
However, many public servers feature minigames when people split up into different teams and fight for something valuable. The most popular MCPE minigames are Bed & Sky Wars.
Yet, numerous analogs are copying their styles and improving gameplay by adding new rules and restrictions or removing borders and letting users do whatever they want.
EzCraft Teams
This Minecraft location offers a unique gaming style. It turns out you have to choose either the Red or the Blue team.
Afterward, you will have to fight for territory. This land has lots to offer, and every mineral and piece of land seems valuable in wartime.
Besides, this location is infinitely replayable, meaning you can undermine someone's supremacy or prove you are the chosen one.
Generally, this Minecraft PE is relatively easy to comprehend. There are several resource points where you obtain the required materials.
You trade these to buy armor and weapons to join the battle and conquer more territory. One's ultimate goal is to turn all the map red or blue.
Blue & Red
Since this Minecraft map is a PVP map, you have to invite some friends to play the Red vs. Blue location in Minecraft. Therefore you can't play without your friends as you could in the previous map.
Besides, the more mates will join you, the more exciting and unexpected it will be.
Moreover, various hidden secrets are scattered around the islands.
If you spot and manage to get to one, you will be rewarded with the luxurious level armor, epic weapons, and meaningful other Minecraft PE resources.
Is this Red vs. Blue MCPE Map large?

No, but it is perfect for minigames.

Can I replay this map?

Is there a storyline?

No, it is a repetitive minigame.
download anchor
Download Red vs Blue Map for Minecraft PE