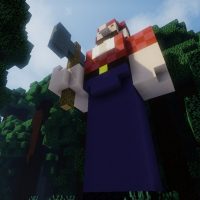 Gravity Falls Map for Minecraft PE
Version MCPE: 0.14.0 - 1.20.31
Download
Download the Gravity Falls maps for Minecraft PE: visit the Mystery Shack and other inexplicable sights in this creepy town.
Gravity Falls MCPE Map Highlights
Gravity Falls is an undoubtedly unique and most beloved series of recent years, despite the project's closure and ending.
Many kids and their parents followed Dipper and Mabel's adventures throughout the most unbelievable and comic situations.
Its authors managed to contain such a big universe and tell such an impressive story within just two seasons.
It's no wonder the Minecraft Bedrock Edition community has created so many Gravity Falls-related maps and mods. You can find whatever you want on the Web, thanks to it.
These spectacular locations feature all kinds of secrets, mysteries, wonders, and puzzles. However, there are also beautiful sceneries to see and views to witness.
Luckily for Minecraft users, no one rushes them this time, and their adventures won't ever end.
Sights
This MCPE map's main thing to display is Mystery Shack, the cabin where all Dipper and Mabel's adventures took place.
You can find numerous bizarre fossils, exponents, and other quite strange things there. For instance, there are creepy dummies and mannequins all around this house.
Minecraft users are free to visit the town nearby their home. Multiple uniquely designed buildings, malls, small shops, and apartments can be found there.
Besides, the most recognizable constructions from the original Gravity Falls series are in Minecraft PE, too — police department, etc.
A giant footprint, fallen trees near the giants' lair, the water tower, and the bridge over the whole valley has been constructed on this location.
Surroundings
Moreover, one doesn't even need any specific sights to feel the Gravity Falls vibes. The surrounding area around a player can tell the story itself.
That's why this map is better than the previous one.
The peaceful lake and hazy trees around it with high mountains in the background make this Minecraft location so cozy and pleasing.
Is this Gravity Falls MCPE Map large?

Are there all sight from the original series?

Yes, there is everything you might want to visit.

Is there a storyline?

No, but you are free to make your own.
download anchor
Download Gravity Falls Map for Minecraft PE