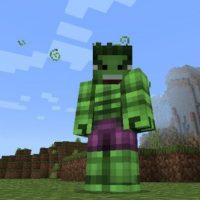 Hulk Mod for Minecraft PE
Version MCPE: 1.2.0 - 1.19.83
Download
Download Hulk Mod for Minecraft PE: transform the world with one of the strongest and smartest superheroes in history!
New Features with Hulk Mod
The Marvel universe includes a large number of amazing and interesting characters. Each of them is distinguished by armor, weapons, or special skills.
Hulk Mod allows Minecraft PE players to transform into one of the heroes of the famous comics. Users will have the opportunity to create an image of the Hulk and get some of his abilities.
Avengers
Exciting adventures and incredible fights are distinctive features of all the stories about the famous Avengers. This is a wonderful modification that adds a lot of characters and items from the famous universe.
It is hard to find a person who has not heard about these incredible heroes. But the most important thing is a huge number of fans, including Minecraft PE users.
By the way,  to the main character of Hulk Mod, who is also known as Bruce Banner, other characters are available in this update.
Among the villagers, users can meet Gomora, Star Lord, and Drax. Thanos will replace the Huskies, and the Hulk Tamer will appear instead of the skeletons.
Doctor Strange will also appear in the game, they will replace the Champion and the Summoner.
Also, standard items will be changed to items from the famous movie. For example, the Infinity Gauntlet is available to players. Thanks to her, the player will have the ability to see in the dark, strength and speed will increase.
Superhero
Bruce Banner has many fans around the world. That is why the developers of Hulk Mod have added this character to the world of Minecraft PE.
Users can try on the image of this amazing hero. As you know, he has incredible strength, so he will not need any special weapons or other items.
Don't forget to turn on the Experimental Game mode!
How do I install this mod?

The file is in .mcaddon extension, so just tap on the file to automatically install the modification.

Can this mod be run in a multiplayer game?

Yes, for this it is enough just to be the owner of the card and install this modification on it.

What if the mod doesn't work?

Try to activate the experimental game mode.
Download Hulk Mod for Minecraft PE