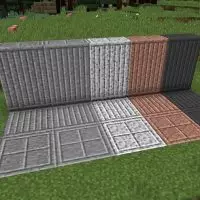 Connected Texture Pack for Minecraft PE
Version MCPE: 0.14.0 - 1.20.31
Download
Download the Connected Texture Pack for Minecraft PE: make your game marvelous and exciting
Connected MCPE Texture Pack Highlights
Minecraft Bedrock Edition has recently updated its textures, adding changing and making them more distinguished and detailed.
Notwithstanding the update, many benevolent players would still like this sandbox survival to look different and more connected.
Java version has Optifine making this edition more complex and outstanding, but MCPE has no such modification.
Thence users created multiple texture packs, enhancing the game's appearance and bringing back the joy of exploration.
Connected textures have lots of advantages to present in Minecraft. Many savvy players can even use them to benefit their playthrough.
Trivial Tweaks
Moreover, most imaginative creators went even further and introduced a lot more than connected textures. Minecraft PE is more comfortable and pleasant.
Trivial Tweaks is one of these texture packs applying and modifying the game to ease and comfort it. For example, glass is now completely transparent with no extra pixels.
Besides, grass and glass panes now connect thanks to what the Overworld and artificial buildings look smoother and tranquil.
On the other hand, water flow looks more realistic and convincing: it is no longer abrupt in Minecraft.
Smaller Textures
On the other hand, this MCPE texture pack also eases this sandbox survival by contrasting ores. You'll find them less effortlessly. Plus, pumpkins do not interrupt the view.
Moreover, weather effects are less visible, so you might not even notice rain or snow. Shields and totems of undying are no longer as massive as they were.
Swords have shrunk as well, but Minecraft GUI has turned translucent and more graceful. Generally, your game shall seem dainty and delicate.
Connected Glass
It is a unique texture pack designed to make glass blocks look more natural next to each other.
Many players are looking for a way to make the glass in Minecraft PE more realistic. After installing the Connected Glass resource pack, all glass blocks will get changed.
Will Connected MCPE Texture Pack help me?

Yes, they have lots of benefits

Can I use it on servers?

Yes, you are free to use it on public servers.

Have weapons chaged their textures?

Yes, they look smaller and take less space on your screen.
download anchor
Download Connected Texture Pack for Minecraft PE