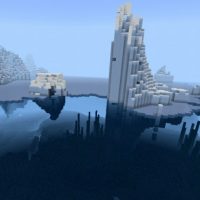 Natural Texture Pack for Minecraft PE
Version MCPE: 1.11.0 - 1.19.83
Download
Download Natural Texture Pack for Minecraft PE: appreciate the amazing changes that will amaze with their beauty and realism.
Natural Texture Pack for Minecraft PE
The world of Minecraft PE has a very recognizable look that many players have fallen in love with. But it is no secret that it is quite monotonous. The authors of Natural Texture Pack have done an incredible amount of work in order to make the picture more realistic and real.
Many elements were drawn by hand, ranging from leaves on trees to objects and weapons. Every player will be able to enjoy the amazing transformation of the familiar world right now.
Realistic
This update for the Natural Texture Pack will absolutely amaze with its relativity and thoughtfulness of every detail. The authors manually drew absolutely every block and animation to it.
A lot of crystals, mobs, as well as elements of armor and weapons have been changed. The developers have tried to combine the original style of Minecraft PE with the most modern features in graphics and design.
At the same time, the result turned out to be extremely original and unlike anything that players could see earlier in the cubic world. You can enjoy the exciting gameplay in the updated space right now.
Mystic
The authors of this update for the Natural Texture Pack managed to create a more believable world. Some important elements of the game world have been improved, such as the light of the sun or moon, and shadows from objects.
Playing in such a space becomes completely different, more interesting, and enjoyable. In the world of Minecraft PE, almost every element is transformed and from this, the overall picture becomes very memorable and interesting.
Exciting adventures and amazing discoveries await all users in an absolutely completely changed space.
What if the texture pack does not work?

Try to activate the experimental game mode.

Can I use it on servers?

Yes, you are free to use it on public servers.

How do I install this texture pack?

The file is in .mcpack extension, so just tap on the file to automatically install the modification.
Download Natural Texture Pack for Minecraft PE