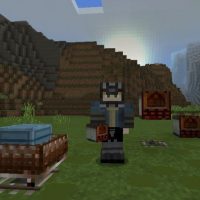 Fallout Texture Pack for Minecraft PE
Version MCPE: 1.4.0 - 1.20.32
Download
Download Fallout Texture Pack for Minecraft PE: сreate a post-apocalyptic world with new armor and unusual items!
What is Fallout Texture Pack for Minecraft PE?
Fallout is a computer game based on the storyline of which events take place in a world that has survived a nuclear war. Those who survived have to face severe trials.
The developers of Fallout Texture Pack tried to move the post-apocalyptic world into the Minecraft PE space. The gameplay has received many changes.
A depressive atmosphere, dilapidated objects, dirt, and dust create an oppressive atmosphere. Along with this, the desire to survive in this terrible place increases even more.
Functions
Radiation, acid rain, and mutants – that is what the player will have to face in Fallout Texture Pack. The creators recreated the original atmosphere in the world of Minecraft PE in as much detail as possible.
A lot of new items will be available to players in this update. They must help in the ordeal that the hero has to overcome.
You can build entire cities using neon blocks, which are a reference to the original game. By the way, all the items in the game are covered with dust and dirt, which is quite obvious, because this world has survived a nuclear explosion.
Armor and items
In the Fallout Texture Pack, players can find new items of clothing, swords, and armor. The main functions do not change, only the appearance.
The game has various items that allow you to feel the atmosphere of Fallout in Minecraft PE. These are various rails on which trolleys can be placed.
Although this world is quite gray and gloomy, this does not prevent it from being interesting as well. Exciting adventures await everyone who dares to visit this inhospitable place!
Do not forget to turn on the Experimental Game mode to take advantage of all the possibilities!
What if the texture pack doesn't work?

Try to activate the experimental game mode.

Can I use it on servers?

Yes, you are free to use it on public servers.

How do I install this texture pack?

The file is in .mcpack extension, so just tap on the file to automatically install the modification.
download anchor
Download Fallout Texture Pack for Minecraft PE