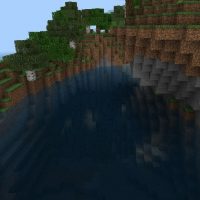 Water Shaders for Minecraft PE
Version MCPE: 0.16.0 - 1.20.32
Download
Download Water Shaders for Minecraft PE: let yourself enjoy every moment of the adventure and get a new list of emotions!
Water Shaders for Minecraft PE
Water Shaders for Minecraft PE change the game space, make it beautiful and convenient.
The effects of the movement of water and various plants have been worked out. All of this adds more realism to the landscape in the blocky world.
Wavy
The developers of Wavy Water have changed the appearance of water in Minecraft PE. Now it looks like real ones.
Players can forget about the boring and static pictures. Small waves appear on the water surface, as if from a breeze or current.
By the way, the animation component has been worked out in detail. It will be remembered for naturalness.
Immediately there is a desire to explore the depths of the water or stay on the shore and fish, or just to stay in this wonderful place.
Waving Leaves and Water
Waving Leaves and Water adds a great animation to the world of Minecraft PE. In this add-on, all plants and trees will look wonderful. And especially water looks really good.
This is achieved because the plants will move as if from a breeze. Water has the effect of waves.
All this changes the game atmosphere, making the process extremely curious and interesting.
It's no secret that static plants don't decorate the world. In this modification, the movement of plants and water creates the effect of real nature.
SEUS PE
The developers have added such realistic effects to SEUS PE that the game interface is fascinating. Now the world of Minecraft PE becomes incredibly developed.
The light of the moon and the sun is reflected in the water. In general, the view of the sky has become fascinating. Improved shadows, including in the Lower World.
A great opportunity to make the adventures in the game unforgettable.
What if the shader doesn't work?

Try to activate the experimental game mode.

Can I use it on servers?

Yes, you are free to use it on public servers.

How do I install this shader?

The file is in .mcpack extension, so just tap on the file to automatically install the modification.
download anchor
Download Water Shaders for Minecraft PE