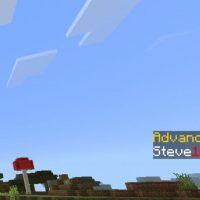 Achievement Mod for Minecraft PE
Version MCPE: 1.17.0 - 1.20.32
Download
Download Achievement Mod for Minecraft PE: get new complex tasks, use a unique interface and complicate the game!
Achievement Mod for MCPE
Players who like to complete tasks in the Minecraft PE world will appreciate the Achievement mod. Add-on gives new goals to Steve. There are several categories in a special menu. It's a good opportunity to make the game more interesting.
Advancements
The mod adds 50 new achievements to Minecraft PE. The developer has created a user-friendly user interface, a soundtrack, and a menu with completed tasks.
The author spent several months on the development, and his work is worth attention. There are four categories with achievements, including Minecraft, the Nether, the End, and the Adventure.
Players can find all the goals in the new menu.
The /function score command will display the number of completed achievements. The /function display on command will display another scoreboard with achievements.
Advancement Pack
The developer of this add-on offers Minecraft PE players to add new achievements, and the interface is similar to the Java Edition. The Advancement Pack will add 63 achievements to the game, which will appear on the screen as in the PC version.
Available achievements
There are several categories to which all 63 achievements belong. In the Minecraft category, there are tasks such as creating weapons, mining resources, and others.
In the Nether category, players will look for ways to get into another dimension, kill hostile mobs, and so on. Steve is also waiting for a trip to the End and getting achievements there.
The Adventure category offers to kill a monster, and do other tasks. Finally, the Agriculture category will provide an opportunity to test your skills in finding food and taming animals in Minecraft PE.
The developer has created a learning screen that contains information on obtaining achievements.
To access the progress, use the following commands:
/function check/progress, which displays the current progress;
/function check/all, which displays all achievements received.
Do not use this add-on with others that affect the user interface. Also, the mod may not work on some maps.
What if the mod doesn't work?

Try to activate the experimental game mode.

Can I use it on servers?

Yes, you are free to use it on public servers.

How do I install this mod?

Tap the file to download and open it in Minecraft PE.
download anchor
Download Achievement Mod for Minecraft PE