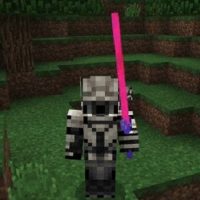 Lightsaber Mod for Minecraft PE
Version MCPE: 1.2.11 - 1.20.32
Download
Download Lightsaber Mod for Minecraft PE: feel like a real Jedi with throwable and simple swords in battles against aggressive mobs!
Lightsaber Mod for MCPE
The Minecraft Pocket Edition has many fans of the legendary Star Wars saga. So a lot of players want to feel like real Jedi. That's why the Addon developers tried and released this modification.
Now you can call all your friends and come into the game to fight on lightsabers in some competition!
Throwable Lightsaber
The flickering lightsaber is undoubtedly a mandatory modification for all Star Wars fans. It will replace the trident in Minecraft PE with an incredible lightsaber.
The lightsaber will have customizable parameters such as model, textures, and even customizable sounds. You can also change behavior with different spells. An exciting feature is that your health will double when you hold this sword. You will also be immune to fire, and the drowned can only shoot at you with light.
In addition, there is a new enchantment effect – Loyalty. After its acquisition, your sword will always return to you after being discarded.
Simple Lightsabers
This modification is a simplified version of the previous addon and has several advantages, which you must try in Minecraft Bedrock Edition.
You have eight new types of lightsabers that you can use to fight aggressive mobs. There's blue and red and purple and even Kylo Ren's sword!
Swords inflict ten health units, and one can be obtained by prescribing a command or scrubbing it in a workbench.
Recommendations
Since this modification adds the possibility in MCPE to try out for the whole world known battles on lightsabers, which the Jedi carried out, you absolutely must conduct them.
For this purpose, call all your friends and organize real tournaments in the cubic world for the title of a real Jedi!
Is the Kylo Reno's sword in the addon in MCPE?

Is the new enchantment effect in the addon for Minecraft PE?

Where can I get these swords?

You may craft or find them.
download anchor
Download Lightsaber Mod for Minecraft PE