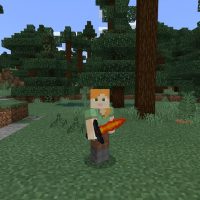 Mystic Blade Mod for Minecraft PE
Version MCPE: 1.16.0 - 1.20.31
Download
Download Mystic Blade Mod for Minecraft PE, and never again worry about evil creatures trying to kill you!
Mystic Blade Mod for MCPE
Swords in Minecraft PE are essential weapons during survival. After all, with their help, the player can fight off evil creatures trying to kill him at any opportunity. However, conventional swords may not be enough.
In this case, the user should try the Mystic Blade mod. He adds new weapons to the game with unique abilities that will be excellent in the fight against hostile creatures.
Swords
First of all, it is worth noting the emergence of new magic swords in the Mystic Blade mod for Minecraft PE. There are seven of them:
Name
Description (Damage / Durability)
Cataclysm Blade
When a target is found, detonates it. At the same time, the blocks around are destroyed, and fire appears. (8 / 145)
Blazing Sword
Allows you to set fire to the target, as well as throw fireballs at him. It takes one second to recharge. (9 / 150)
Scarlet Blade
Deals very great damage, and

at the same time, the player replenishes his health

. The disadvantage of this sword in Mystic Blade mod is its low strength. (12 / 70)
Shattered Blade
Can place an ice wall in front of the user in Minecraft PE. Thus, the player can run away from the enemy. (8 / 115)
Scimitar Crusader
It gives an enemy the effect of levitation, after which he falls and takes fall damage. It also gives the player a slow fall effect. (9 / 150)
Lightning Sword
Strikes the target with lightning and sets it on fire. In this case, the user receives the effect of resistance to fire so as not to receive damage. (8 / 140)
Blade of Flicker
Very quickly

teleports the target up to six blocks away

. (9 / 140)
Swords crafting
The player has the ability to craft any swords in Minecraft PE from Mystic Blade mod. To do this, he first needs to find the elements stones. They can be purchased from a traveling merchant or found in various dungeons. After that, you need to get their fragments from the stones in the workbench. And only after that, the user can craft swords.
How do I install this mod?

The file is in .mcaddon extension, so just tap on the file to automatically install the modification.

Can this mod be run in a multiplayer game?

Yes, for this it is enough just to be the owner of the card and install this modification on it.

What if the mod doesn't work?

Try to activate the experimental game mode.
download anchor
Download Mystic Blade Mod for Minecraft PE