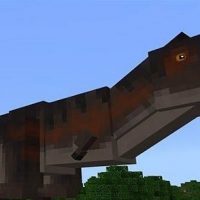 Dino mod for Minecraft PE
Version MCPE: 0.14.0 - 1.20.41
Download
Download Dino mod for Minecraft PE: сreate your dinosaur summoning eggs with DNA, play with new ores, different dinosaurs, and more!
Dino mod for Minecraft PE
By downloading these modifications for Minecraft Pocket Edition, you will be able to plunge into the incredible Jurassic world with its inhabitants. With a lot of terrifying reptiles, it'll be a lot more fun to play with.
Some mobes are frightened by their appearance, and some of them are smiling, but they're just as dangerous.
Dinosaurs modification
This addon adds to your Minecraft PE world 19 different mobs. Most of them are predators and do entirely not mind eating players. There are land dinosaurs in real life, there are underwater dinosaurs, so it's not worth going too deep, but there are Ludodactylus that is an alternative to Pterodactyls and fly in the air.
Be very careful, because even the smallest of them can kill you if they want to. Some mobs walk alone, and some attack in groups, so keep your eyes open. Several new decorative blocks have also been added to the game.
Another feature of this modification is, besides ancient animals, the modern jeep. It's a little weird to drive past prehistoric creatures in an SUV on one side, but in case of danger, you can leave quickly and stay alive.
Jurassic Period mod
In the same addon on MCPE, you can feel like real archaeologists! All over the world, there will be a variety of new ores from which we will make fossils. We transfer the fossils to the croft grid, and we get DNA. Then we make a disc and a syringe.
We need to extract blood from the stone, and then we align the whole thing on the disk
When we've mixed it all, we have to connect the chicken egg and the syringe to the liquid in the crate mesh. The dinosaur egg is ready. As in the previous addon on Minecraft PE, these dinosaurs are predators
You can breed dinosaurs with different kinds of meat. They're tamed with bone. Another new mob of this addon is Nautilus. It is entirely peaceful, floats in the ocean, it can be eaten.
Is the addon contain some type of vehicles?

Yes, there is jeep in the addon.

How high can dinosaurs jump in MCPE?

They can jump two blocks high.

Where can I get necessary items?

You may craft or find them.
Download Dino Mod for Minecraft PE