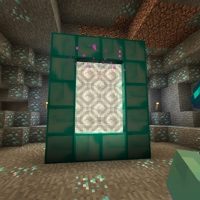 Diamond Portal Mod for Minecraft PE
Version MCPE: 0.12.0 - 1.20.31
Download
Download the Diamond Portal mod for Minecraft PE: make your world even more valuable.
Diamond Portal MCPE Mod
Minecraft Bedrock Edition has lots of resources, and nearly all of them have value. You cannot get obsidian without diamonds, and so forth.
However, some of these materials are more important than others due to the more often use. For instance, coal is indeed more valuable than slime.
Users appreciate wool more willingly than they do it with gravel. Yet, Mojang Studios made diamonds the leader of players' attention.
Even after the introduction of Netherite rapacious users tend to get as many shiny brilliants as possible in Minecraft PE.
Furthermore, some creators go further and present modifications, making obtaining diamonds more manageable than ever before.
The Diamond Portal addon is one of these easing additions.
Portals
Although portals are considered to be gateways between different points in space, this portal does not teleport you to any other location or dimension.
It seems this diamond portal turns everything around it into brilliants and other luxurious blocks, acting like a plague in Minecraft.
Subsequently, we have a new source of diamonds, and this one even more straightforward than any other you've ever utilized and come to.
Yet, the portal is not cheap at all: one has to spend lots of its belongings to make a Diamond Portal in Minecraft PE.
And despite the fact you'll get more quadrilaterals, you will have to spend approximately a stack of this jewelry eventually in Minecraft PE.
The last thing to do left is to lit up the portal with a bring flame from your traditional flint and steel. As soon as a player ignites the gateway, everything around turns blue.
Gateways
One is now free to mine all these minerals and use them how it wants. Nonetheless, another mod's authors announce you can increase the transformation radius.
It was not possible in the previous addon. Thus Minecraft users can turn the whole world into diamonds, thanks to this portal.
How do I build the gateway in Diamond Portal MCPE Mod?

It is made of diamond blocks.

How many diamonds I will get?

It depends on the radius you've chosen.

Is this cheating?

Yes, it seems like cheating, but it also hard to build the portal.
download anchor
Download Diamond Portal Mod for Minecraft PE