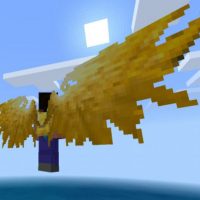 Wings Mod for Minecraft PE
Version MCPE: 1.16.0 - 1.20.31
Download
Download Wings Mod for Minecraft PE: make your image unusual and memorable.
What is new in Wings Mod?
There are so-called elites in Minecraft PE. The item allows the player to float in the air. Wings Mod is a completely different approach to the art of levitation and flying. Now each user will be able to choose a unique item that will make the image incredibly memorable and unusual.
The update has huge wings that will impress anyone who sees them. Also, heroes can find an animated version for themselves. Users can choose from forty-five options and it is really worth it to see it live.
In the cubic world, there are no barriers to making all dreams come true.
Animated
This update for Wings Mod includes more than forty different color options. A distinctive feature of all of them is that they move.  Like real wings in birds or insects, which continuously create movement.
The new item will decorate absolutely any image. Minecraft PE heroes will be able to appreciate a large selection of various colors, among which there will definitely be the necessary one.
To change the coloring, go to the global settings and click on the gear icon to open the menu. In it, users can drag the pointer and change the options. It is convenient that all the colors are signed so that it is easier for players to decide.
On Armor
The authors of this update for Wings Mod have added huge wings to each type of standard armor in Minecraft PE. Putting on any of the types of equipment, the hero will automatically receive an incredibly beautiful element.
Each user can create their own unique image that will definitely amaze everyone around them. After all, in real life, many dreams of being able to fly.
But everything that cannot be realized in reality is possible in the cubic world. Just download this update and enjoy the unique features.
How do I install this mod?

The file is in .mcaddon extension, so just tap on the file to automatically install the modification.

Can this mod be run in a multiplayer game?

Yes, for this it is enough just to be the owner of the card and install this modification on it.

What if the mod doesn't work?

Try to activate the experimental game mode.
download anchor
Download Wings Mod for Minecraft PE