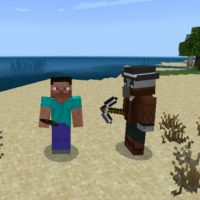 Bandits Mod for Minecraft PE
Version MCPE: 1.18.0 - 1.20.32
Download
Download Bandits Mod for Minecraft PE: create an atmosphere of westerns and Gold Rush times in the cubic world.
What is interesting in Bandits Mod?
At the time when it was discovered that a lot of gold could be found in deserted deserts, banditry and robberies flourished. Crowds of adventurers and lovers of easy money began to flock to these inhospitable places.
This is the atmosphere that Bandits Mod will help create in the cubic world. Players will have access to unique items and new blocks for construction in the style of the times of the Gold Rush. Also, new mobs will appear in Minecraft PE, from which users can hardly expect anything good at this time of lawlessness and the absence of any rules.
Every user can create their own adventure story in the Wild West style, just install the update and enjoy new experiences.
New mobs
The Bandits Mod features several mobs at once, which perfectly reflect the atmosphere of the Wild West. First of all, these are miners who mine gold but also do not mind easy money.
These bandits are armed with a pickaxe and dressed in typical clothes for that time. Minecraft PE players may also encounter a rattlesnake that makes a distinctive sound before attacking. And another animal that is characteristic of the desert or savanna is the vulture.
Quite large birds circle in the air until they notice the victim, who is exhausted under the hot, scorching sun.
Items and blocks
In order to further reflect the atmosphere of adventures in the Wild West, the Bandits Mod developers have added several characteristic items and blocks.
Minecraft PE players can use two options dry grass and tumbleweed. Also in the Inventory users can find maracas, rattlesnake tails, and vulture feathers. If the hero decides to build a dwelling, players can use new blocks for construction.
How do I install this Bandits Mod?

The file is in .mcaddon extension, so just tap on the file to automatically install the modification.

Can this mod be run in a multiplayer game?

Yes, for this it is enough just to be the owner of the card and install this modification on it.

What if the mod doesn't work?

Try to activate the experimental game mode.
Download Bandits Mod for Minecraft PE