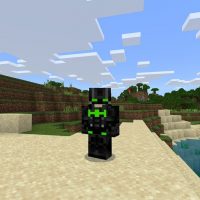 Batman Mod for Minecraft PE
Version MCPE: 1.9.0 - 1.20.32
Download
Download Batman Mod for Minecraft PE, and plunge into the world of the most popular character in the DC Universe!
Batman Mod for MCPE
This set of mods for Minecraft PE includes the most popular characters in DC comics. In it, the player can defend Gotham in the form of a dark knight and wreak havoc. Also, the user has the opportunity to release all the villains, such as the joker and Harley queen.
Batman from Arkham
This modification to Batman from Arkham for Minecraft PE has one excellent advantage. It lies in the fact that the player can craft items from the modification right in the survival mode. Therefore, you do not have to open the Creative inventory to get something from there every time.
Weapon
With the installation of the mod for Batman from Arkham, six types of weapons appear in Minecraft PE:
bomb: two iron ingots + dynamite+ two diamonds;
grappling gun: big Batarang + crossbow + two iron ingots;
big Batarang: two iron ingots + diamond + two pieces of iron;
small Batarang: two iron ingots + piece of iron;
grenade launcher: bomb + diamond + two iron ingots + grappling gun;
smoke bomb: two gunpowder + bomb.
It is also worth noting that there is new material in the Batman mod in Minecraft PE – kryptonite. With it, you can make a new sword.
Mobs
Also, the mod for Batman from Arkham includes a large number of mobs. The player can watch epic battles between heroes and villains. The creator of the mod did not forget about the transformation of the user into a real superhero. Many costumes have been added to the modification.
Among other things, the user is presented with a wide selection of mobs to create his own Gotham City. Characters such as Superman, Harley Quinn, Joker, Robin, and Deathstroke have joined the franchise in the Batman mod in Minecraft PE.
How do I install this mod?

The file is in .mcaddon extension, so just tap on the file to automatically install the modification.

Can this mod be run in a multiplayer game?

Yes, for this it is enough just to be the owner of the card and install this modification on it.

What if the mod doesn't work?

Try to activate the experimental game mode.
download anchor
Download Batman Mod for Minecraft PE