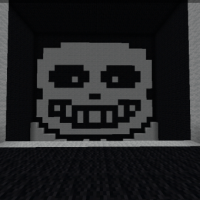 Undertale Mod for Minecraft PE
Version MCPE: 1.2.0 - 1.20.31
Download
Download Undertale Mod for Minecraft PE: move to one of the most famous locations of the famous game Undertale!
Undertale Mod for MCPE
For quite some time now, the Undertale project has been in the spotlight and has managed to get the hearts of many players around the world.
This game gave the entire community a head track in mind, memorable heroes, and a worked-out plot. Of course, after that, enthusiasts came along and made some excellent maps for Minecraft PE.
Now you can take a chill on these superb maps based on Undertale thematic.
Undertale World
It brought the 2D Undertale world into the game, but initially only on the Minecraft Java Edition, the PC version. However, within a month, the first full-fledged port appeared, and it was completed.
Especially for those already familiar with the game universe, various puzzles and tests were mounted on the map to better experience the game.
Here you can run around looking for secret Easters left behind by the authors in MCPE.
Battle with Sans
However, what is there to learn if you can have a real battle right in Minecraft Pocket Edition. Fight to the death with one of the most challenging yet memorable characters in the story.
To install the card in the Minecraft Pocket Editon, it is enough to download it and click on the file. The game should open automatically.
The entire battle lasts on average seven minutes, so we advise you to prepare morally because it will be really difficult.
Battle with Asgore
Another location from the previous author moves Steve to another room, where the world's more complicated boss Undertale will be waiting at MCPE.
If you compare the two maps, you can see massive growth of the map in creating exciting and functional levels.
To do something, you have to throw away the object. If you want to attack, throw the sword forward.
Are there any game bosses in the addon?

Yes, there are Asgor and Sans.

Which boss is the strongest?

Where can I get items to fight?

You may craft or find them.
download anchor
Download Undertale Mod for Minecraft PE