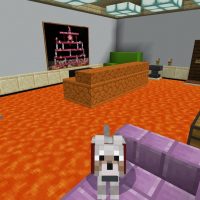 The Floor is Lava Map for Minecraft PE
Version MCPE: 1.1.0 - 1.20.31
Download
Download The Floor is Lava Map for Minecraft PE, and try not to fall to the floor, which is made of lava!
The Floor is Lava Map for MCPE
When survival in Minecraft PE gets boring, players begin to go through various challenges. Best suited for this task are special maps with various difficult tasks. One of these maps is The Floor is Lava. The bottom line is that the user has to go through various obstacles by parkour. In this case, you cannot fall to the floor because, in this case, the player will burn in lava.
Rooms
The player will appear in a cozy room after installing this. The Floor is Lava map for Minecraft PE. Here he will see two buttons on the stage. One button is responsible for all the necessary information about the map. Learn about levels, rules, and more here. The second button is needed to start passing tests in Minecraft PE.
The first level is an ordinary room. The second level takes place in the bathroom. There are five levels in total. After the passage, the player will again appear in the very initial room. Parkour here is pretty simple and will take about ten minutes to complete.
Escape
Unlike the previous The Floor is Lava map, this one has a storyline. According to this storyline, the user managed to escape from the house in which he was held hostage in Minecraft PE.
Now he has to go through large parkour to get to the rescue helicopter. If the user misses and cannot get on the block, he will immediately fall into the lava from a great height. Therefore, he has no margin for error.
Hard parkour
If the previous maps seemed simple to the player, then he should try this one. In this The Floor is Lava map, the user appears in a long white hallway. In front of him is a glass door that opens automatically. After that, it remains only to go through rather difficult and long parkour.
How to install a map for Minecraft PE?

In order to install the map, you need to move it to the address games/com.mojang/minecraftWorlds.

How are maps installed in a ZIP archive in Minecraft PE?

First of all, you need to unzip the file, then move it to games/com.mojang/minecraftWorlds/.

How are maps with the .mcworld extension installed in Minecraft PE?

After you download the file, run it. The map is automatically imported into the game.
download anchor
Download The Floor is Lava Map for Minecraft PE