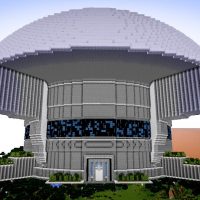 Star Wars map for Minecraft PE
Version MCPE: 0.14.0 – 1.20.31
Download
Download Star Wars map for Minecraft PE: theme park and movie robots are waiting for you.
Star Wars map for Minecraft PE
Star Wars are a cult series of movies, cartoons, and comic books. The theme is so popular that various toys, designers, and computer games follow it.
The theme of Star Wars did not pass Minecraft PE, which is why the excellent maps appeared.
Park
This location represents a large park of Star Wars universe, there are many different buildings and characters from the film.
For example, you can ride the Darth Vader roller coaster or visit a Ferris wheel with a stormtrooper image.
If you wanted to be on a spaceship, there's a star destroyer that you can go in and examine thoroughly. The area is entertaining and exciting, you can run here with friends and use the rides.
Techniques
This map will show you most of the techniques from the Star Wars movie. There are huge robots here that look like a fantastic creature, but they also resemble a dog because of the body. They do a lot of damage to the enemy. They're efficient, both on land and against flying ships.
In addition to conventional tank equipment, the map shows the legendary millennium falcon piloted by Han Solo in the film.
In Minecraft PE, you have the opportunity to enter and study the ship, visit the control center, the recreation rooms, the technical compartment, and many other things.
Senate Building
This location is the same place that almost everyone who's ever heard of Star Wars is familiar with. The Senate building, which used to be a democracy and is now on its way to Palpatine's treacherous plans, is accessible.
Players of Minecraft PE will see a huge structure of hundreds of balconies where senators sit and pass laws that change the face of the entire Empire.
There are both interior halls and exteriors of the building itself. So you will have something to do with yourself.
May I enter the Senate building?

How big are the Walkers?

They're as tall as a big mountain.

Are there many structures?

Yes, this version contains various constructions.
download anchor
Download Star Wars map for Minecraft PE