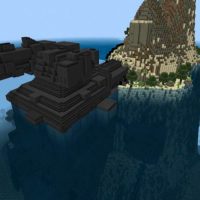 Subnautica map for Minecraft PE
Version MCPE: 1.12.0 – 1.19.83
Download
Download Subnautica map for Minecraft PE: put on a shrimp costume and explore the vast expanse of the ocean!
Subnautica map for Minecraft PE
Subnautica is a fantastic game with an underwater adventure where the player controls the character – the only survivor of a shipwreck. A similar experience is now available in the Minecraft PE area with the Subnautica Survival map.
The location on the map is a giant ocean! The map includes various textures, fashions and additions that will bring worthwhile gameplay and fun adventure.
Also, the developer took care of underwater breathing, creating a special kind of armor for deep dives.
Dungeons
In this location for Minecraft PE the user will find a variety of structures, from temples to sunken alien ships.
By the way, the primary purpose of the game has not changed. It would be best if you still found the eye and the fortress of the End to get rid of the troubled dragon.
But it's not going to be that easy. It turns out the respiratory system has been altered a little bit. Now you will have to find special armor in Minecraft PE.
Items
This map for MCPE even introduces several new items that are intended to make gameplay more sophisticated.
For example, the redesigned leather armor can be lowered to 108 levels of water and the gold to 36. The hardest one is the diamond one because it lets you sink to the bottom.
However, the Subnautic map also adds a suite of sea moths and shrimp. This set is an exoskeleton that will allow you to move faster.
Features
According to the creator of the map, he also included several mods on various underwater creatures. Some of them are aggressive.
So you're going to have a challenging time at Minecraft PE. Fortunately, the subnautic map also includes a new sound accompaniment to make it more interesting.
In general, this location will be enjoyed both by lovers of the original and simply by adventurers.
How do I get a submarine in MCPE?

It can be craft with dropper.

What does a shrimp suit do in Minecraft PE?

It gives the player additional speed and strength.

What kind of armor can lower me to the bottom?

You need diamond armor for that.
Download Subnautica map for Minecraft PE