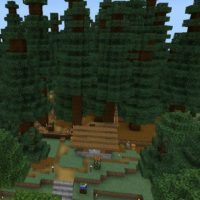 Taiga Map for Minecraft PE
Version MCPE: 1.19.0 - 1.20.15
Download
Download Taiga Map for Minecraft PE: try to survive in realistic conditions, visit the village of local residents and settle in one of the cozy houses.
What is new in Taiga Map?
A large-scale project to develop one of the biomes of Minecraft PE is presented by the authors of Taiga Map. Starting with the first part, in which players will get acquainted with the forest terrain and villagers, and ending with the third, where there will be many more useful resources.
Use every opportunity to survive in this wonderful place and cope easily with any difficulties.
Untitled Taiga
The author of this add-on for Taiga Map is of the opinion that the gameplay in Minecraft PE should be devoid of any cheats or mods. That is why the territory of the map is limited by certain limits.
At this location, the heroes will find everything they need, namely structures and caves. There will also be a village with local residents near the spawn point. In it, the heroes can choose ready-made housing for themselves and use various items, for example, workbenches and so on.
Part 2
This map is a continuation of the previous story but with significant improvements. For example, the author of Taiga Map increased the population of a rural settlement and also added additional resources. Among them will be 64 diamonds.
An interesting opportunity to move the Minecraft PE player and various items between the spawn point, the village, and other locations is the railway. It is located almost all over the territory of this area.
Part 3
This part of the large-scale Taiga Map project is a perfect world. Minecraft PE heroes will have to survive in very difficult conditions. The authors have added a full set of diamond tools and cherry seedlings that the heroes can use right now.
It is worth noting that the creators of the update adhere to the concept of legitimate survival, which they even posted an in-game announcement about. On the territory of this map, there are many different buildings that will be useful when passing tests.
How to download Taiga Map?

Tap the file and open it in Minecraft PE.

Can I use this map with my friends?

Yes, the map can be used for a multiplayer game.

Can i use the map in the survival mode?

Yes, the map is suitable for the survival mode.
download anchor
Download Taiga Map for Minecraft PE