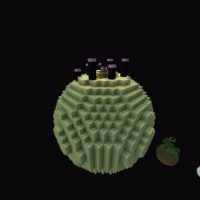 Skyblock map for Minecraft PE
Version MCPE: 0.14.0 – 1.20.31
Download
Download Skyblock map for Minecraft PE: try to survive on exciting Lucky Block map or just discover 40 different islands!
Sky Block map for Minecraft PE
Sky Block is an unusual survival high in the sky on flying islands. The player appears on the main island with minimal initial resources.
On some maps for Minecraft PE, some goals are considered to have been achieved.
Christmas
It's the old and most common Sky Block map for MCPE. A curious user can visit all 12 existing islands wholly covered in snow. You will need to explore all flying islands to feel the map's scale fully.
There is also an exciting possibility on this map: you can make a cubic snowman. There's an infinite amount of snow.
Lucky Block
This map for Minecraft PE is almost the same as the previous one but still has its main feature. In this location, the player will visit a unique island containing a tree made of lacquer blocks. And the exciting thing is that this tree can be replanted.
40 islands
There are more than 40 flying islands in the MCPE, each of which is different in its way. The player wakes up in some room in the story and doesn't remember how he got here.
He finds some writing in the chest and then travels to the island to survive.
It should also be noted that the map has its resource, which only improves the game's atmosphere.
Unique islands
Unlike others in MCPE, this map has unique islands, each of which is detailed.
For example, once on an island with crystals, the player may think they have arrived at the Edge.
Besides, there is a chest in the lobby where you can put things. After that, the item will disappear, and another will appear instead.
Space skyblock
The present version of the map on Skyblock locates in a boundless space. The islands of this location for Minecraft PE are planets that differ in size and biomes.
The developer of this territory built only six planets but promised to add more in the future. These six islands include the ordinary world's planets, hell, land, ice, UFOs, and an asteroid cluster.
How do I grow a tree out of Lucky Blocks in MCPE?

It is necessary to place the oak seedling on the site where the tree was and wait, or accelerate the process with bone flour.

How many people can play on a Skyblock map in Minecraft PE?

Can I replant the Lucky Blocks tree?
download anchor
Download Skyblock map for Minecraft PE