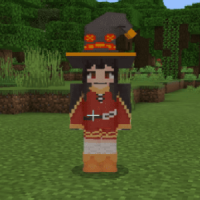 Waifus Mod for Minecraft PE
Version MCPE: 1.14.0 - 1.20.31
Download
Download Waifus Mod for Minecraft PE: survive with your favorite female characters from the most popular anime worldwide!
Waifus Mod for MCPE
Minecraft Pocket Edition has always had many anime fans. Many players have long used mods to add all anime themes directly to the cubic world to enjoy the atmosphere of their favorite manga.
But the developer of this addon decided to stand out especially and tried harder. Now you can meet in the game all the most famous female anime and manga characters you have ever seen!
With Waifus modification, your loyal companions can become such outstanding girls as Hinata or Ochako!
Features
As many of you know, Minecraft PE is full of dangers that can threaten you at every step of your journey.
It is especially dangerous at night when you can not hope that nobody stands in front of the tree because nothing is visible. So users tamed their loyal dogs, who were the only satellites in the game, to make it safer to survive and not lose all their resources in MCPE.
But now, with this addon, everything has changed. You can take your favorite girl from a popular manga as a companion. Survival will be not only several times more pleasant but even safer, as most girls are formidable enemies for aggressive mobs who can destroy them with a few blows or shots!
Strong girls
As stated above, these anime girls will be mighty companions for you in the Minecraft Bedrock Edition. Some of them are worth mentioning.
The most loyal and dangerous companion is Rachel. As stated by the developer, only she will use her gun in difficult battles against aggressive mobs. The other girls only use close combat at the moment.
Also, don't underestimate Mikasa Ackerman, as she is one of the most vital companions available to you. She is a member of the legendary Ackermann family and has extraordinary strength. Its main feature is the awakening of internal solid energy when it finds its companion, that is, you.
Is Hinata in the addon for MCPE?

How can I tame the anime-girl in Minecraft PE?

You can tame them by poppy.

Where can I get these items?

You may craft or find them.
download anchor
Download Waifus Mod for Minecraft PE