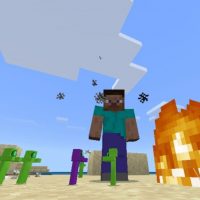 Clay Soldiers Mod for Minecraft PE
Version MCPE: 1.2.0 - 1.20.32
Download
Download Clay Soldiers Mod for Minecraft PE: take a part in a great fight with the help of little men!
Clay Soldiers Mod for MCPE
There are many military mods for Minecraft PE. The developers went further and created clay soldiers for the virtual world.
The army of toy soldiers will consist of cute little people of different colors.
Toy Soldiers
Players can organize their war on the Minecraft PE territory. The Toy Soldier mod will add two armies of soldiers to the game world. They are divided into two teams and constantly fight.
The modification is perfect for multiplayer games with friends when players need to split into two teams.
Features
All soldiers will be of different colors In Minecraft PE. It is convenient because you need to understand what is on whose side. They all treat Steve neutrally because their main goal is to defeat each other.
By the way, players can force soldiers to guard them. The red men will agree to serve if users offer them apples. The green ones will like emeralds. Blue men will be happy with diamonds, and yellow love gold bars.
Clay Soldiers
The developer of The Clay Soldiers mod has introduced clay men into Minecraft PE. They also divide into teams and fight with each other.
There are three classes of new mobs: soldiers, archers, and mages. The soldier has health 20 units. There is a rare chance a giant version be spawned.
The archer has health 15 units and can shoot from a distance of 10 blocks. The magician has health 14 units and shoots from a distance of 15 blocks. These types have also the immunity to fire.
In addition, there are zombies and zombie tanks.
Additionals
It is better to collect large groups of clay soldiers in Minecraft PE to defeat any creature. Mobs alone are not so strong, so increase your power and add more creatures.
Six armies will come to the game: green, yellow, blue, red, and gray soldiers. There is also a zombie team.
To make the mod work players should use the experimental mode.
How do I install this mod?

The file is in .mcaddon extension, so just tap on the file to automatically install the modification.

Can this mod be run in a multiplayer game?

Yes, for this it is enough just to be the owner of the card and install this modification on it.

What if the mod doesn't work?

Try to activate the experimental game mode.
download anchor
Download Clay Soldiers Mod for Minecraft PE