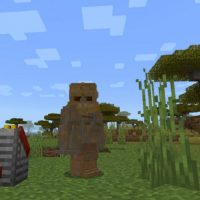 Fallout Mod for Minecraft PE
Version MCPE: 1.16.0 - 1.20.31
Download
Download Fallout Mod for Minecraft PE: explore a post-apocalyptic world, try on 3D armor and use various mechanisms.
What is interesting in the Fallout Mod?
The game that served as the basis for the creation of Fallout Mod for a long time retains its popularity. The idea of survival in the post-apocalypse world has many fans around the world.
And, of course, a lot of new items from this story have also appeared in the Minecraft PE world. Players will receive protective suits and armor, as well as various mechanisms that will create a unique atmosphere in the vast cubic world.
Crafter
A large-scale addition to the theme of the apocalypse is presented by the authors of Fallout Mod. This time, even the animals that live in Minecraft PE will change. Their appearance will reflect all that they had to go through.
By the way, players will be able to try on various protective suits that will help in the process of survival in a changing world. The update also contains various melee and ranged weapons and a large number of new items.
Heroes should take care of their safety in advance, recommends building a more reliable home and taming dogs that will protect them during their movements. Incredible adventures are waiting for everyone right now.
Fallout
Created based on the famous post-apocalyptic game Fallout Mod provides players with everything they need to create a unique atmosphere. There are four armor options to choose from. All of it is made in 3D format and looks very impressive.
By the way, various unprecedented mechanisms, a medical table, and new blocks will appear in the Minecraft PE world. Invite your friends to evaluate all the possibilities together and arrange themed adventures right now.
Do not forget to turn on the Experimental Mode to take advantage of all the possibilities.
How do I install this Fallout Mod?

The file is in .mcaddon extension, so just tap on the file to automatically install the modification.

Can this mod be run in a multiplayer game?

Yes, for this it is enough just to be the owner of the card and install this modification on it.

What if the mod does not work?

Try to activate the experimental game mode.
download anchor
Download Fallout Mod for Minecraft PE