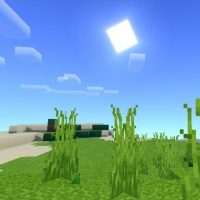 Vanilla Shaders for Minecraft PE
Version MCPE: 1.4.0 - 1.20.31
Download
Download Vanilla Shaders for Minecraft PE: add natural shadows and colors, new lighting, and beautiful effects to your world!
Vanilla Shaders for MCPE
There is no realism in Minecraft PE, the game has a simple design from the very beginning. Different developers create shaders to get more natural colors and lighting.
Vanilla Shader
It is an excellent idea for players who want to add colors to Minecraft PE. Vanilla Shader works even on weak devices, which is one of the advantages of this resource pack.
The world changes a lot and looks juicy and bright. It is much more fun to spend the nights in a cubic world with a beautiful moon and new colors. The shadows also are beautiful and natural. Shaders will add incredible realism to the game graphics.
Do not forget to choose the experimental mode in the menu to bring juicy pixels to your world.
Vanilla Plus Shader
Players can use Vanilla Plus shader to color the usual style of the Minecraft PE world. At the same time, they will naturally bring a lot of changes. The author tried to make the resource pack work on weak devices with low power and other characteristics.
Functions
Vanilla Plus shader can be easily recognized in Minecraft PE by the bright blue sky and dark blue night. The main features of this resource pack are new colors and realistic shadows.
Players can also notice beautiful volumetric clouds in the sky. Water has a new animation, as well as leaves on trees and plants. The lighting of the game world also changed completely: there is a reflection of the sun and highlights in the water and realistic fog.
The developer added one interesting detail to the game – the effect of rain. It gives the players an opportunity to see wet surfaces when it rains.
New beautiful sunsets and sunrises deserve special attention. The sky has improved bright lighting and deep colors!
What if the shader doesn't work?

Try to activate the experimental game mode.

Can I use it on servers?

Yes, you are free to use it on public servers.

How do I install this shader?

The file is in .mcpack extension, so just tap on the file to automatically install the modification.
download anchor
Download Vanilla shaders for Minecraft PE