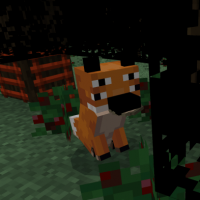 Awful Minecraft: Cursed Texture Pack for Minecraft PE
Version MCPE: 1.11.0 - 1.20.31
Download
Download Awful Minecraft: Cursed Texture Pack for Minecraft PE: Get a hefty dose of horror with a new texture pack and bring your friends!
Awful Minecraft: Cursed Texture Pack for MCPE
Many players are tired of the ordinary and standard surrounding cubic world in the Minecraft Pocket Edition. This is why the modification developers have worked hard and created this texture pack, a variety of gameplay.
Players will face a whole new world that looks like the old one. There are a lot of scary, but also fascinating.
General
The author warns that the world will be like something inexplicable. All things will be kind of standard, but in fact, completely different. Most items will look more like Deformed Forest than average in MCPE. Even the UI interface was changed to allow users to dive completely. 
It is claimed that even the color of grass, leaves, and other things have become highly unusual. Even the sun has changed. It was like a crazy dream that would never stop. It can frighten some, but it can make others explore the world more intensely.
Weather
As already stated, the sun has become more bloody than its usual color. Besides that, there is now blood rain in the cubic world.
But the snow can't please either – it's also from horror movies in Minecraft Bedrock Edition.

Gameplay
According to the author, even the stripes below and show hunger and health also terrible and mad flowers and views in MCPE.

The exciting thing is that the ore habits of all players have also been drastically changed. If you try to go into a cave and get some diamonds or iron, you won't know what you just discovered until you dig it up.
It is also not advisable to eat food without checking in advance what you are holding – it may not be what you think it is.
And, of course, in addition to the standard Upper World, both the End and Nether were replaced. The mobs everywhere will be incredibly scary and weird, and in the Nether, they're going to be terrifying.
Is the textures are scary in MCPE now?

Can I use it on servers?

No, it's only for your own.

Have weapons chaged their textures?
download anchor
Download Awful Minecraft: Cursed Texture Pack for Minecraft PE