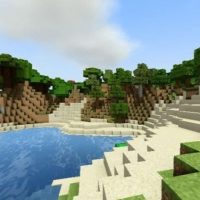 ESBE 2G Shaders for Minecraft PE
Version MCPE: 1.8.0 - 1.20.32
Download
Download ESBE 2G Shaders for Minecraft PE: improve the graphics, add realism to the game space, and more!
ESBE 2G Shader for MCPE
The graphics part of Minecraft PE is simple and even a little primitive. The original idea of the game world is everything consists of blocks.
Meanwhile, some players want to see the world similar to real life, with smoother lines and better animation. Shader creators offer different solutions to this problem.
For those who are looking for realism and want to color the habitual game space, there are ESBE 2G shaders.
The advantages of the resource pack are also bright, beautiful colors, shadows, and even animation.
Features
Unique ESBE 2G shaders primarily improve the graphics part of Minecraft PE. Players may notice some visual effects: brighter lights and increased contrast. All this helps to explore the territories and enjoy the game process.
With ESBE 2G shaders, the in-game design completely changes, while the feeling of the familiar atmosphere remains.
The developers have done everything possible to make the resource pack work even on weak devices.
Even if the player has an old iPhone model, the graphics changes will be noticeable. These shaders are universal because they can support iOS, Android, Windows10, and XBOX platforms.
Advantages
These resource packs bring the next changes to Minecraft PE:
The colors and shades of the game are changed a lot;
the brightness will vary depending on the direction of the player's movement and correspond to the location in space;
the stars in the sky will shine much brighter;
glare from the sun on the water surface;
clouds will float across the sky and differ not only in size but also in shape;
an extra foliage animation will appear.
ESBE 2G is perfect for those who want to change the graphic component of the cubic world. Walking through beautiful territories diversifies the game. Players can enjoy realistic sunsets views and updated landscapes similar to real ones.
What if the shader doesn't work?

Try to activate the experimental game mode.

Can I use it on servers?

Yes, you are free to use it on public servers.

How do I install this shader?

The file is in .mcpack extension, so just tap on the file to automatically install the modification.
download anchor
Download ESBE 2G shader for Minecraft PE