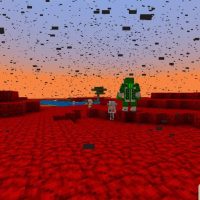 Doom Mod for Minecraft PE
Version MCPE: 1.17.0 - 1.20.31
Download
Download Doom Mod for Minecraft PE, and meet infernal monsters from the legendary game!
 Doom Mod for MCPE
There are different modifications for Minecraft PE that add heroes, items, and places from popular plots. This time developers decided to create a copy of the Doom universe.
Thanks to this mod, players can bring a hellish atmosphere into the game world.
The developer added demons and changed several biomes of the game. There are more dark shades, which makes the territories close to the original locations.
Demons
There are ten demons from the Doom world. They appear everywhere in Minecraft PE. Each of them has different abilities. For example, there is a Demon hunter in the Nether. He stalks Steve to kill him.
The modification will add other Doom demons: the Infernal Baron, Archers, and other mobs. They all are dangerous and creepy. For example, an Arachnotron is a huge spider with many legs.
Several creatures can fly in MCPE, such as a Cacodemon or an Elemental of Pain. They can attack players from the air, so you need to be careful and look up sometimes.
The mod will add several bosses from Doom. The most famous are Gladiator, Icon of Sin, and Warriors.
Biomes
Doom modification will change the landscape of Minecraft PE. For example, deserts will be much hotter. It can be dangerous for Steve: to save his health it is better not to such places.
Snow biomes have no changes, but monsters can hide in these places.
Weapons and items
The Doom mod adds new items to Minecraft PE. There will be different new weapons:
Chain pistols;
super shotguns;
chainsaws;
killer blades.
It is possible to get additional armor. To get the goods, players can use the command /give @a cc:crate_box.
How do I install this mod?

The file is in .mcaddon extension, so just tap on the file to automatically install the modification.

Can this mod be run in a multiplayer game?

Yes, for this it is enough just to be the owner of the card and install this modification on it.

What if the mod doesn't work?

Try to activate the experimental game mode.
download anchor
Download Doom Mod for Minecraft PE