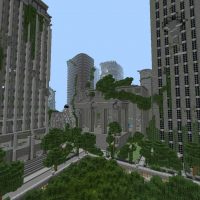 Ruined City Map for Minecraft PE
Version MCPE: 1.0.0 - 1.20.32
Download
Download Ruined City Map for Minecraft PE, and feel the atmosphere of a destroyed city!
Ruined City Map for MCPE
No matter how exciting survival in Minecraft PE is, it gets boring over time. In such cases, players begin to swing different maps for a change. One of these maps is the ruined city. In this location, the player can visit a town that once had a great life. He can fully feel the whole atmosphere of a large and abandoned city.
Centre
When you first enter the Ruined City map for Minecraft PE, the player appears in the city's center. Here he can see the very characteristic spawn of the Hunger Games maps. The fact is that the map was originally used in the hunger games.
Therefore, if the player wishes, he can invite his friends and have fun with them. However, before these, you need to scatter chests with things throughout the city.
Skyscrapers
Looking around after spawning in the Ruined City map, the user may notice skyscrapers that are in an almost wholly destroyed state. They are entirely covered with vines and are about to fall.
Big clock
The player will meet a big clock going beyond the skyscrapers in a ruined city in Minecraft PE. The top of this building has already completely collapsed, but you can generally see the clock itself. There is practically nothing inside the clock itself, except for the stairs to the very top, where the chest is located.
Hospital
No big city can do without a hospital. Therefore, in this destroyed city in Minecraft PE, you can also find this building. But it, like any other building on this map, is destroyed. There is a helipad on the roof of the hospital.
Nuclear power plant
On the outskirts of the Ruined City map in Minecraft PE, you can stumble upon a nuclear power plant. The two large cooling towers can understand this next to it. It is noteworthy that the trees nearby do not have foliage here, which is a hint of the presence of large radiation.
How to install a map for Minecraft PE?

In order to install the map, you need to move it to the address games/com.mojang/minecraftWorlds.

How are maps installed in a ZIP archive in Minecraft PE?

First of all, you need to unzip the file, then move it to games/com.mojang/minecraftWorlds/.

How are maps with the .mcworld extension installed in Minecraft PE?

After you download the file, run it. The map is automatically imported into the game.
download anchor
Download Ruined City Map for Minecraft PE