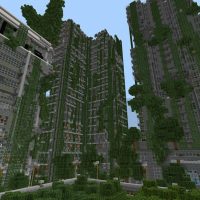 Abandoned City Map for Minecraft PE
Version MCPE: 1.0.0 - 1.20.31
Download
Download Abandoned City Map for Minecraft PE, and start your survival in a destroyed city!
Abandoned City Map for MCPE
Minecraft PE surprises with its possibilities, which it provides for players. Here they can begin their survival in a variety of cities, even abandoned ones. Such locations give the user a sense of frozen time. After all, once the town was alive, whole families lived here, and now only dilapidated buildings remain of it, which are entirely covered with liana.
Apocalypse world
The first time you enter the Apocalypse World map for Minecraft PE, the player will be in the center of the city. Turning around him, he will notice a vast abandoned city, which is in a ruined state. In the center, you can understand that the map was initially intended for the hunger games.
However, this location can be used for normal survival as well. Moving around the city, the user can see a variety of buildings. Some of them are still impressive in their appearance, although they are in disrepair. If you install modifications on weapons and zombies for Minecraft PE, then here you can start a fascinating survival with your friends.
Destroyed City
Unlike the previous abandoned city in Minecraft PE, there are more buildings of various types here. First of all, it is worth noting the presence of tiny destroyed houses. There are still some resources in the chests, which will be especially useful in the early stages of survival. Going further, the user may notice greenhouses with a lot of crops.
Also, one cannot fail to miss the tall skyscrapers, which, oddly enough, were covered with ice. In another part of the abandoned and destroyed city in Minecraft PE, the player will see a defense tower, as well as a dam. The dam will be destroyed, which most likely caused the destruction of the city.
How to install a map for Minecraft PE?

In order to install the map, you need to move it to the address games/com.mojang/minecraftWorlds.

How are maps installed in a ZIP archive in Minecraft PE?

First of all, you need to unzip the file, then move it to games/com.mojang/minecraftWorlds/.

How are maps with the .mcworld extension installed in Minecraft PE?

After you download the file, run it. The map is automatically imported into the game.
download anchor
Download Abandoned City Map for Minecraft PE