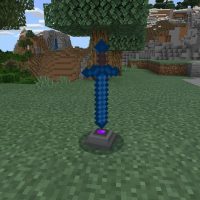 Pedestal Mod for Minecraft PE
Version MCPE: 1.3.0 - 1.20.32
Download
Download Pedestal Mod for Minecraft PE, and keep your swords always ready and visible!
Pedestal Mod for MCPE
Tools in Minecraft PE are an essential part of the gameplay. The player uses them to do almost everything: extracts useful materials and chops down a village. Most importantly, he fights hostile creatures with his sword.
It is very important that the sword can always be reached in time if the enemy is caught by surprise. In this case, a great solution is to keep the weapon on a pedestal so that you can pick it up right away.
Animated Sword Pedestals
This Animated Sword Pedestals mod for Minecraft PE adds six new blocks to the game. It is worth noting that the user has the ability to craft these blocks in survival mode. To do this, you first need to make a stone brick. This requires four stones, which are obtained by melting a cobblestone. Next, the user needs to get a redstone to make a redstone block.
Finally, the player can craft a pedestal in Minecraft PE. After that, it remains to connect any desired sword with a free pedestal. All that remains is to place the resulting block. In the Animated Sword Pedestals mod, the swords have rotation animation, a great decoration solution.
Weapon pedestal
The next modification for Minecraft PE allows you to place any tools on a pedestal. Also, the Weapon Pedestal mod allows you to choose in which direction the tools will be: up or down.
Also, there are several types of this block at once. To craft them, you need to place three blocks in the center horizontally in the workbench and then a frame in the center top or bottom cell.
Depending on the position of the frame, the direction of the instruments on the pedestal will change. The blocks in the center correspond to the texture of the block itself. For example, a glass pedestal needs glass. With the command /give @s pa: you can get all the new blocks.
How do I install this mod?

The file is in .mcaddon extension, so just tap on the file to automatically install the modification.

Can this mod be run in a multiplayer game?

Yes, for this it is enough just to be the owner of the card and install this modification on it.

What if the mod doesn't work?

Try to activate the experimental game mode.
download anchor
Download Pedestal Mod for Minecraft PE