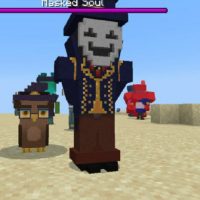 Witcher Mod for Minecraft PE
Version MCPE: 1.16.0 - 1.20.15
Download
Download Witcher Mod for Minecraft PE: a variety of all kinds of magical creatures and objects will make the gameplay incredibly interesting and exciting.
What is interesting in Witcher Mod?
Every user who installs the Witcher Mod can turn Minecraft PE into a magical space. Now the heroes will have levitation wands, a wizard's costume, and a broom on which they can fly through the air.
Among other things, new dangers will appear in the cubic world, in the face of a wide variety of magical creatures. Beware of attacks not only from the ground, but also from the air, and also learn how to control otherworldly forces.
 Wizardry
Users who install this update for Witcher Mod can learn the secret recipes for crafting, learn how to control the elements, and fly on a broom. This knowledge will be very useful because new dangers will appear in Minecraft PE.
Now witches will attack players from the air and deftly evade attacks. Therefore, it is worth preparing well for a meeting with them.
Magical Broomsticks
Every self-respecting wizard should be able to fly on a broom. That is why the authors of Witcher Mod have created this update, which presents the air transport of real magicians.
You can find it in the Inventory of the Creative mode of Minecraft PE. An interesting feature of this update is that each of the items gives its owner some special effect.
Witchery
Users who install this add-on for Witcher Mod can add magic and magic to the cubic world. A lot of different creatures will appear in Minecraft PE, such as Cassie Witch, Masked Soul, or Dark Scarecrow.
All of them not only look intimidating but also have unique mechanics of interaction with players. For example, a Magical Owl can shed its feathers, they will be needed when creating a Golden Mirror. Also, by defeating the Witcher Mod, players will have the opportunity to create a levitation wand.
How do I install this Witcher mod?

The file is in .mcaddon extension, so just tap on the file to automatically install the modification.

Can this mod be run in a multiplayer game?

Yes, for this it is enough just to be the owner of the map and install this modification on it.

What if the mod does not work?

Try to activate the experimental game mode.
download anchor
Download Witcher Mod for Minecraft PE