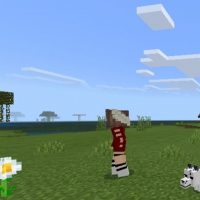 Minecraft Comes Alive Mod for PE
Version MCPE: 1.0.0 - 1.20.15
Download
Download Minecraft PE Comes Alive Mod: make the game more realistic by having a family, pets, and other staff!
Minecraft Comes Alive Mod for MCPE
Users like Minecraft PE for different mobs. But developers decided to bring more realistic staff to the game. The world comes alive by adding friends, family, pets, and other attributes of real life!
Villagers come alive
This mod improves everything about the villagers of Minecraft PE. All come alive in a game. There are two genders in the world. New villagers will get new images and become more realistic.
The player can interact with male and female villagers, building real relationships. Steve can tell jokes, flirt, and kiss mobs to win their sympathy. You can make Minecraft alive by asking a virtual girl to become your wife. Hold a diamond ring in your hands to do it.
By the way, if the mob agrees to get married, you will get a baby.
How to have a family
Find a male or female in Minecraft PE and open the interaction menu. Make an offer while holding a diamond ring in your hands. After that, you can raise your baby.
Happy family
The add-on includes new creatures with unique behaviors, models, and textures to make Minecraft PE come alive. There is an ability to interact with new mobs. For example, players can get married and have a child.
The mod does not replace or affect any other mobs or textures in the game.
Relationship status
This option lets Minecraft PE players have a relationship with mobs. The status appears with the Shift button pressed or during sneaking up. States change according to the following degrees: nothing, friends, girlfriend or boyfriend, wife or husband.
To make friends with the characters, you need to hold the Phone Number item and stand next to the mob you want to make friends with.
By the way, girls will cook. Each player can ask a wife to cook a raw piece of meat.
To make Minecraft come alive, players can have a profession. There are also pets, furniture, and other attributes of real life.
To get all the items, use the command /function hf.
How do I install this mod?

The file is in .mcaddon extension, so just tap on the file to automatically install the modification.

Can this mod be run in a multiplayer game?

Yes, for this it is enough just to be the owner of the card and install this modification on it.

What if the mod doesn't work?

Try to activate the experimental game mode.
download anchor
Download Minecraft Comes Alive Mod for Minecraft PE