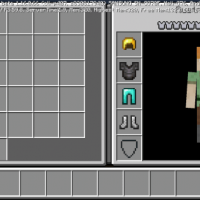 Invisible Armor Texture Pack for Minecraft PE
Version MCPE: 1.14.0 - 1.20.31
Download
Download the Invisible Armor Texture Pack for Minecraft PE: make your armor invisible, surprise your opponents!
What is new in Invisible Armor Texture Pack?
Even if it sometimes seems that the developers have already changed everything that was possible in Minecraft PE, then this is far from the case.
The Invisible Armor Texture Pack does not change the appearance of any objects or objects. They will literally not be visible.
Opponents will be very surprised if an ordinary hero in clothes suddenly gets all the functions that are only available for armor.
Major changes
Constant changes and improvements are what make Minecraft PE so unique. The game is adored by millions of users around the world.
Because creators and developers really know how to surprise. This time they got a really unusual addition to the usual appearance of the hero.
In Invisible Armor Texture Pack, ordinary armor simply disappears. The hero puts it on, the protective characteristics improve, but only he knows about it. No one around will see that it has protection.
This can really help in difficult moments because adventures are not always simple and safe.
Armor
Changes are available for all types of armor. In Invisible Armor, the hero has access to such types of uniforms as:
leather;
iron;
chain mail;
gold;
diamond.
All these options will become invisible when they are put on the hero. For everyone around him, he will be in his usual clothes. By the way, the turtle shell will also be invisible to others.
Users should not worry about security, because all the protective characteristics are preserved. Now the battles in Minecraft PE will be even more exciting. But with invisible armor, the chances of winning definitely increase.
Do not forget to turn on the Experimental Mode in the game to use all the features!
How to install these textures?

Download and open it in Minecraft PE.

Can I use it on servers?

Yes, you are free to use it on public servers.

Have weapons chaged their textures?

Yes, they have been altered.
download anchor
Download Invisible Armor Texture Pack for Minecraft PE